AiBle is a 3-year UK/France cross-border EU Interreg project to improve the recovery experience of stroke patients with better treatment effects and efficiency by developing an upper-limb rehabilitation exoskeleton robot based on AI and cloud computing.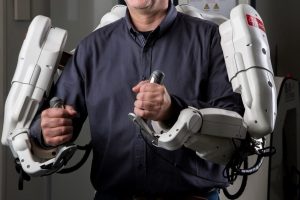 This project aims to develop a new generation of exoskeleton robot that will benefit stroke patients by providing advanced functionality that will enable remote but active rehabilitation. This will be achieved by the integration of artificial intelligence, virtual reality and cloud computing.
Avalon is involved in this project through the Phd of Lucien Arnaud Ndjie Ngale (CRISPI / UPJV / Avalon) under the supervision of Yulin Zhang (CRISPI / UPJV) and Eddy Caron (Avalon / ENS de Lyon). This Phd focus on the tasks management and Cloud optimization dedicated to the exoskeleton.